World Premiere
Monday, Oct 2nd 8:45PM
International Village 8
Wednesday, Oct 4 1:15PM
Vancity Theatre In 1990, Balinese sculptor Nyoman Nuarta made a promise to build one of the largest startues on Earth.
The 121 meter-tall Garuda Wisnu Kencana would potrey the Hindu god Vishnu mounted on the mythical bird Garuda.
This would be his ultimate tribute to the island he came from, Bali.

In his quest to realize his dream, Nuarta and his family endured almost three decades of trials and tribulations;
from a devastating fire, a world-wide financial crisis, to death threats.

After 28 years of struggle and sacrifices, Garuda Wisnu Kencana was built,
standing tall to be a testament of sheer determination.
ONCE IN A CENTURY DOCUMENTARY
A story about an artist's 28-year struggle in building a masterpiece larger than the Statue of Liberty.
a touching family story at heart
Unraveling the many facets of human resilience through pride, disappointment, betrayal, and faith.
cinematic spectacle
Taking you to a side of Bali you have never seen before with a collection of breathtaking imagery, nowhere else to be seen.
Key facts
Interview Subjects
Nyoman Nuarta
Cynthia Lakshmi Nuarta
Jim Supangkat
Jean Couteau
Wayan Windra
Putu Tania Madiadipoera
Made Tasya Nuarta
Writers
Maulana Aziz
Sutansyah Marahakim
Directors
Banu Wirandoko
Rheza Arden Wiguna
Executive producers
John Fitzgerald
Julian Grimmond
Associate producers
Robin Moran
Pinkan Veronique
Bunga Ineza Bastaman
Aninditha Bunga Ayodhya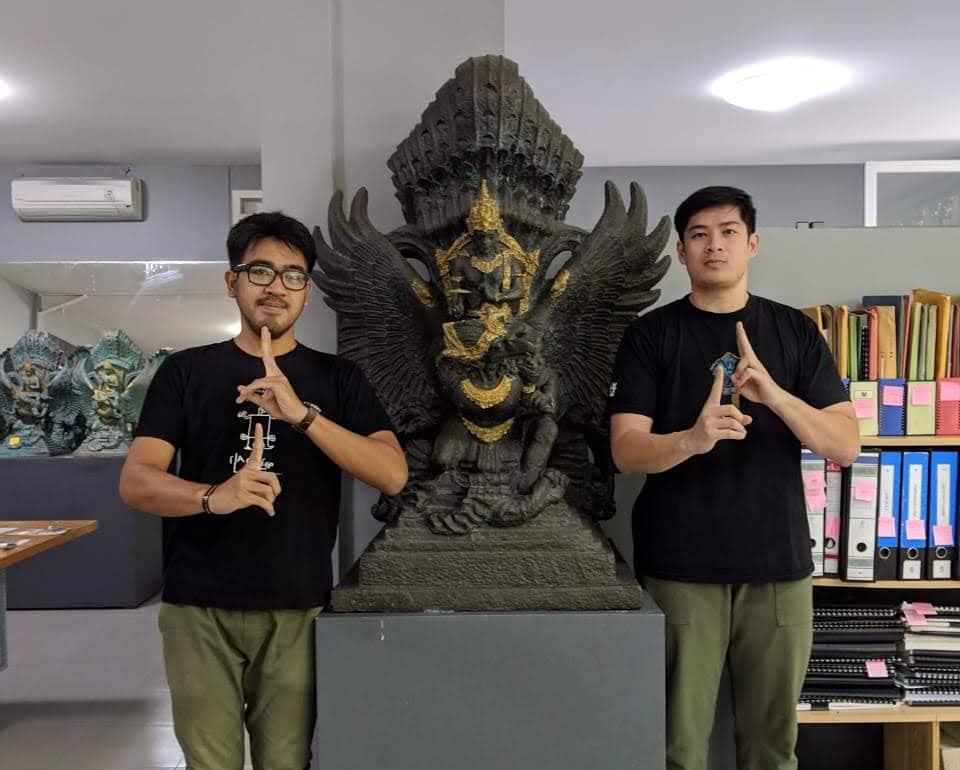 Director's statement
The strange chain of events that led us to the opportunity in making this film was out of pure luck and serendipity. We were just young and foolish college students when we heard there was a video competition about documenting GWK. We thought and daydreamed about how cool it was if we won the competition and got the chance to shoot GWK construction in Bali. We would be flying back and forth from Bandung to Bali and living a life to be bragged about. It was all fun and giggles until we submitted our video at the very last minute. We won.

We started out only documenting the statue-making process with our wacky imaginations thanks to newly born technology of DSLRs and mirrorless cameras to create flashy visuals. But eventually we were drawn into the undeniable presence of Nyoman Nuarta as the artist himself, as sometimes he would invite us to family dinners, praying trips, and other important events. We realized, GWK was only a byproduct of Nyoman Nuarta's childhood dream. With luck, we stumbled upon a story no one had ever heard.

At first, Nyoman casted a giant shadow that draws admiration, but as we peel off his layers, we have a rare chance to see him as an ordinary man with dreams, flaws, and heartbreaks, accompanied by a family that loves him for better or worse. We want to demystify the mirage of Nyoman Nuarta as an artist that created one of the biggest statues in the world and make everybody realize he is only human, just as much as everybody else. And if someone like Nyoman dared to dream big, all of us can. In a time when the pursuit of instant gratification is the rule, we would like to showcase that no dreams are achieved without long-enduring hard work and sacrifice.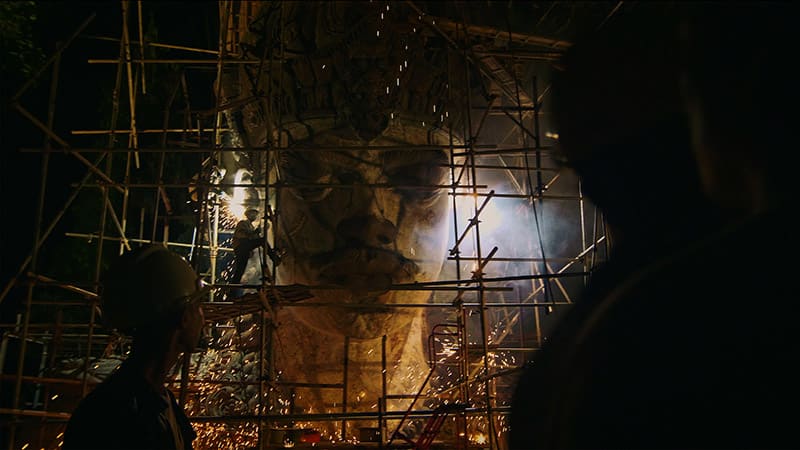 Production Journey
It's 2018 and we've finished shooting all the important materials that started back on 2013. At our hands, we have more than 20 years-worth of footage and archives. Being first-time filmmakers, we were oblivious of the needs of editing a feature-length film. We learned the ropes as we go with some help from our partners in the industry. It took us a year to edit and finally have a solid structure we like.
Before we had the chance to finish the film, the pandemic hit.
We've got a taste of being Nyoman for when our first feature-length documentary post-production had to stop because of a pandemic. As a team, we tried to stay afloat for two years doing only commercials. We had the first-hand experience of how hard it is to keep our spirits alive during times when bailing out on the project seems so much easier.
We kept going at it one day at a time, working during the pandemic to secure capital and continue finishing the film and gathering help from our talented and experienced partners throughout the film and design industry.
We're proud to say, our first feature-length documentary
Sculpting The Giant
is officially finished.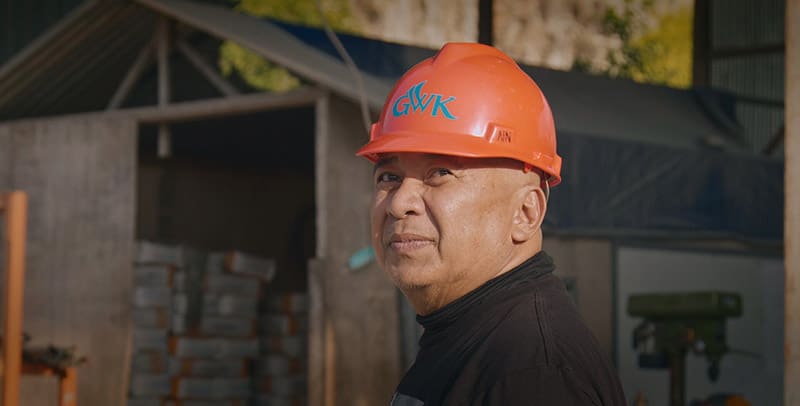 Nyoman Nuarta is a Balinese sculptor residing in Bandung. An artist bestowed with the title of Chevalier dans l'Ordre des Arts et Lettres from the French government, Nyoman is a well renowned for making huge statues and was commissioned by the government to build a 30-metre tall statue of a navy officer that would later pave the technique of how Garuda Wisnu Kencana was built. Garuda Wisnu Kencana on top of its pedestal would later become the 5th tallest statue structure with a total height of 122 meters.

Nyoman possesses a rare combination of an artist and an entrepreneur. He is able to create the demand for large statues to be made in real estate developments through his company for him to have a lucrative job as a sculptor. Although he would credit his wife for his business success, he has a business acumen that people would not expect from a sculptor. With his success, Nyoman can come off as an arrogant man at first, but that may come from a "nothing to lose" mentality that he has. Prior to acquiring all of his wealth from making commissioned statues, he was just a talented boy from Bali coming to Bandung studying art, living on shared instant noodles at desperate times. Relative to where he came from, he never felt he had much to lose in the first place.

His 'nothing to lose' attitude would sometimes put him in trouble as he would easily trust other people that may have dubious motives in dealing with Nyoman that would later bring him and his family to a spiral of unfortunate events.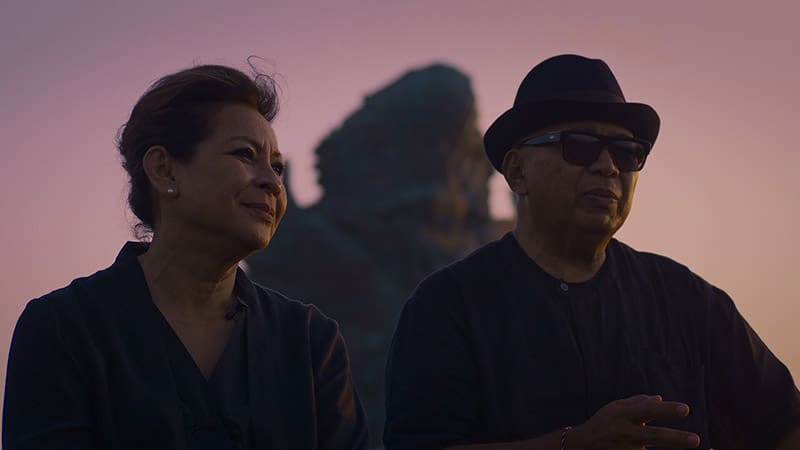 CYNTHIA LAKSHMI NUARTA
The Heroine
Becoming Nyoman's number one confidant, is his wife and business partner, Cynthia Lakshmi Nuarta. She came from a privileged family in Bandung but never out of touch. She resembles diligence and hard work as she took a chance on her life and love with a nobody-sculptor from a remote village in Bali.

She is a true believer of Nyoman's talent from day one and she has been Nyoman's anchor throughout the years. She managed Nyoman's sculpting business operations and made sure it was a lucrative endeavor for everyone involved. She once managed at least 1000 workers under their company. That is until the 1998 Asian financial crisis happened. Under her leadership, Nyoman managed to stay afloat as an artist while managing to employ hundreds of people.

While managing Nyoman's work, she gave birth and raised two strong beautiful daughters Tania and Tasya who later on got involved deeper into Garuda Wisnu Kencana's journey. The three of them would become Nyoman's voice of reason and anchor him to the real world as much as possible. It is an understatement to say that Nyoman's strength and resilience comes from Cynthia all along.